A group of Teachers Specialists provide a complete path Theatre (Drama, Music and Singing, Musical).
Silvia, Coordinator. Specialized as Educator Theatre at the Catholic University of Milan, was formed with great theatrical and pedagogical experts. Deals with courses and workshops for children, teens and adults for Schools, Companies, Hospitals, Reception Centres, Libraries, Speakers and Associations in Lombardy, Emilia and Trentino. E 'was also called to deal with the drama workshops for the World Day of the Child in 2010 in Milan.
Alessandro. Educator with decades of experience in the animation and coordination of creative activities for groups of children and young people in Trentino. Campus specializes in recreational sports, creative workshops and group games. Deals with theater workshops, creative, fables and animated reading, entertainment for parties and events.
Giulia. Artistic collaborator. During performances worked as assistant artistic, following participants with care and enthusiasm. Graduated from the University of Milan Bicocca, specializes in childhood.
Davide. Coach, specializing in group dynamics and yoga. And 'Facilitator Breath .. From passionate years of personal development, considers it important for the growth of children, sharing the principles through stories and games. Has experience for Giochi Preziosi (The children felt the games under his supervision and management).
Chiara. Teacher of Music and Singing. She graduated from the G. Verdi Conservatory in Milan in the class of opera singing. He has years of experience working in the choir of voices of the Teatro alla Scala in Milan, with annual concerts. Take part in summer festivals, musical and shows. Collaborates with teachers of schools of 'childhood and primary school for music and creative activities: construction of dramatizations based on fairy tales, readings and musical works.
Federica. Teacher Study of Character. After a decade of experience in the theater, he comes to theater school "Those of Grock" in Milan. Has deepened and enriched by participating in its preparation stage actress with Danio Manfredini, John Strasberg, and Luciano Colavero Gaddo Bagnoli, dance theater with Julie Stanzak and voice with Renato Gatto. His work with children is mainly focused on the study and characterization of a character, as well as the expressive reading of fairy tales, thanks to his degree in Modern Literature. During his studies he also experienced the painting and drawing, specializing in creative work of decoration.
Sarah. Teacher Theatre. Driven by the desire to respond to the great passions of his life, the theater and the children, he studied theater since 1996 at the Civic School of Corsico. He then dedicated to the improvement of the lessons learned by attending a seminar of dance theater led by Monica France and specializes with the course for "Operators Theater for Children" Sunflowers Theatre of Rome. Parallel acquires experience in the relationship with the children as part of their professional activities as an educator for children, earning a second certificate for "Manager of the Community" and also working at nurseries where, within the educational project-educational , took care of the theater workshops. Acquires additional professional experience sneaking as a director, stage actress and drama teacher for children and Primary Schools.
technicians:
Erika. Translator.
Gregorio and Francesca. Workers shooting video in tests. To allow for free to parents, children and young people, to preserve unique memories of the shows.
Alessandra. Photographer.
Carlo Colucci. Chart area children and web promotion.
Debora Gandini. Webmaster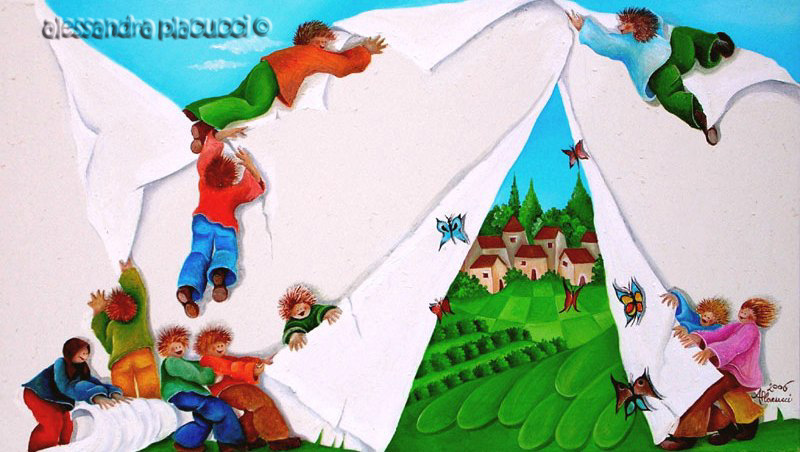 Immagine di Alessandra Placucci