All projects for the schools are under the supervision of Professor Gaetano Oliva, on behalf of the Sacro Cuore Catholic University of Milan. Gaetano Oliva is Professor of Theatre, History of Theatre and Drama in the Faculty of Education.
We offer projects for:
– Kindergarten
– Primary School
– Secondary School

Contact us: scuola@mondo-creativo.com
 Our Projects for School wish to respond to the training needs through experiential methodology. The laboratory thus becomes the privileged place of sharing and creation through the use of expressive arts: Theater,  Singing, Dance,  Musical, Cinema,  Photography.
Each path can be focused on the topics of greatest interest school. Among our trails more Popular:
– Emotions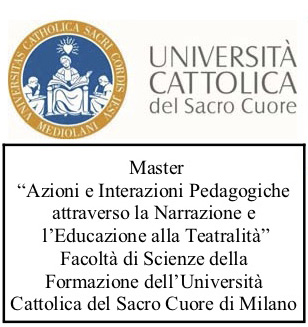 – Intercultural
– Identity and relationships
– Conflict management in the classroom
– Our senses
– Human Rights
– Fables: creation, structure and narrative
– Creative Writing
– Expressive Reading
We also deal in School Projects of:
– Music
– Singing
– Choir
– Theatre and Art (theatrical paths through the History of Art)
– Construction of Puppets and Puppet
– Construction of Scenic Items and Sets