Creative World is pleased to invite you to a special event: the new theme music workshops for Children and Youth for fans of Music and Singing!
On popular demand are back our Musical Afternoons: Saturday, February 28 at 15.30 for the cycle Protagonists of opera "Discovery of Giuseppe Verdi" at the headquarters of Bernini, Parish of St. John Lateran, Noe street corner square Bernini.
..discover the story and become the star!
A unique journey for those curious to IRQs the secrets of music and notes, for those who love the pace, FOR THOSE WHO WANT TO SPEND AN AFTERNOON funny, ARTISTIC AND TRAINING. Children will spend two hours of musical magic, they will be an active exercises with music and singing practice! Every Afternoon Musicale will have a specific theme, following the methodology of our laboratories that combine Art, Education and Entertainment.
Seats are limited and must be booked! We wait at the headquarters of Bernini, to spend an unforgettable afternoon.
The first round of meetings:
- "Magical Adventures in the Garden of Music" (March 31, 2012)
- "Invitation to Teatro Giuseppe Verdi" (April 21, 2012)
– "The Carnival of the Animals: musical adventure!" (May 5, 2012)
– "The fountains in concert" (May 19, 2012)
The second round of meetings:
- "The Music of Art Circus" (October 6, 2012)
- "The Flight of the Bumblebee" (November 17, 2012)
- "Christmas Special"! (Wednesday, December 19, 2012)
- "Music and Cinema" (March 9, 2013)
- "Feelings in Music" (April 6, 2013)
The Third Series of meetings:
- "Let's play with the Soundtrack" (November 16, 2013)
- "The Magic of Christmas" (December 14, 2013)
- "The Sounds of the City" (February 1, 2014)
- "The Sounds of Nature"! (March 15, 2014)
The fourth round:
- "Music as Language! Sounds, Body, Tools … Emotions!" (November 8, 2014)
- "Magical Christmas" (Sunday, December 14, 2014)
- "The Protagonists of the Opera" (January 31, 2015)
The workshop is conducted by: Chiara, Teacher of Music, Conservatory G. Verdi and Silvia, Educator Theatre.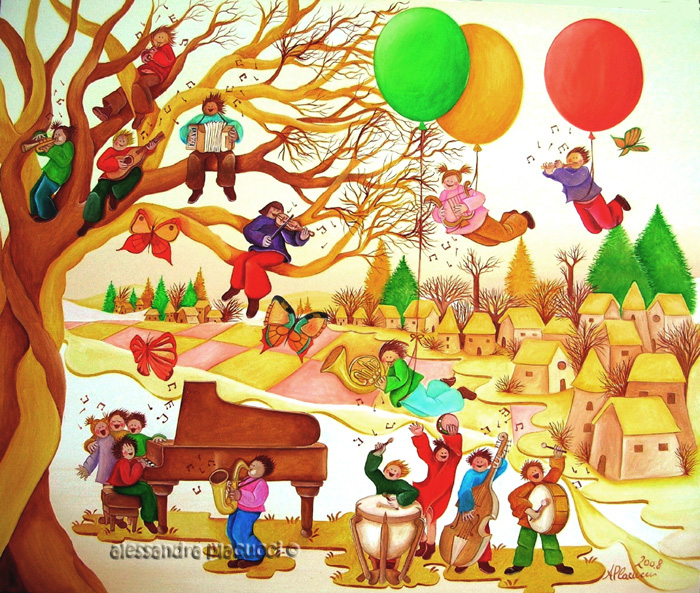 Immagine di Alessandra Placucci